Tuesday, July 25, 2006
FO: Ballband Hand Towel
I've made a bunch of the warshrags (my mom and I find them totally addictive). I always have one mindless project to work on while I am on the phone at work, so I cast on about twice the pattern repeats and made it into a hand towel for the kitchen. Had a big water spill this morning and the Peaches 'n Cream really soaks up like no tomorrow.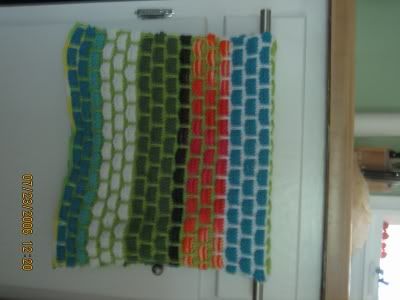 We redid our kitchen for about $100 by refacing all the cabinets and painting, and adding some crown molding. This really gives it a nice touch of class.
If any of you live in the midwest... Michael's is having a $1 sale this week on peaches 'n cream!
Comments:
Love the towel! i was thinking of doing that as well because that stitch just lends to a very nice texture for a towel, doesn't it? glad to see that it worked out so well! knit on! :o)
Post a Comment
<< Home