Tuesday, August 01, 2006
Scribble scarf
I made a shrug out of some cotton ribbon yarn and had leftovers. Was hooked on the warshrags and now am obsessively making the bibs and these scarves.
These are great gifts, don't require a lot of yardage and it knits up quickly. The stockinette still curls but after blocking it lies much better. For the thin yarn, I used half sockotta and half Rowan denim. Still not sure if I will put this away for X-mas presents or will keep it for myself.
Modeled by my energetic 15 month old, Scarlett: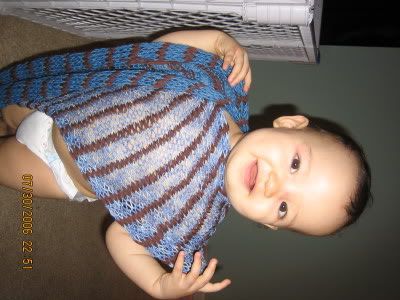 More pictures:
Baby running with scarf
On me
Close up of stitch pattern
Comments:
I love the scribble scarf. I want one so bad I was thinking about buying yet MORE yarn to do it with...sigh...Of course it is 30degrees here (celsius) with a humidex of 41! so I don't actually need a scarf right now. hmmmm...
Post a Comment
<< Home