Tuesday, September 26, 2006
knitted dishcloths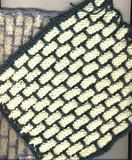 I haven't had much time for M-D knitting, unfortunately. I'm still knitting up mitered squares - and crocheted a few, too, just for fun & ha ha's - and working on a log cabin afghan or two :).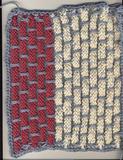 These two dishcloths are the beginning of a pile that I'll be putting together for my church's silent auction Columbus Day weekend. My hometown has a big "Octoberfest" every year - minus any beer, it's more a small country fair, almost, minus the animals but includes the bad entertainment - and the church has a silent auction every year. I haven't donated in quite some time, and realized only this past Sunday that it was coming up. I've been busy knitting/crocheting for my family's raffle, and had blinders on, I guess.
So, what to knit or crochet, in less than 2 weeks time, but will still look impressive - but doesn't involve alot of money, or yarn? M-D dishcloths, of course, though if I have time, I'll knit one State of MA cloth, since we are in MA after all.
Comments:
Good idea. You could also do some baby bibs from the book, they're fast. The washcloths look nice so far!Happy speedy knitting.
I probably will do the baby bibs, too - I keep thinking of it, anyway. My SIL is pregnant & due the end of March, so it really would be nice to do a ton!
Anastacia - your edges are by far the best I've seen. Is that a crochet edge on them?
I'm struggling with adding a slip stitch edge to my second BB washcloth and would love some tips.
Post a Comment
<< Home