Wednesday, June 13, 2007
Bubbly!
Months after I put my Bubbly curtain aside, I finally picked it up again and did the piddly finishing work -- weaving in the ends, blocking, making the hanging cord -- and now it's hanging in my kitchen window and it's BEAUTIFUL!
Now I only need two more for the bathroom windows....
Tuesday, June 12, 2007
Rounding the Bend
I'm 10 miters away from being done with my blanket! Boy, am I excited to see it all done, blindingly stripy in all it's glory. I really want to back it with some nice cotton, has anyone backed theirs before? I've got the sewing skills, can you explain how you did yours please? Thank you!
Oh boy oh boy oh boy, I'm one EXCITED girl!

Friday, June 08, 2007
My first ballband!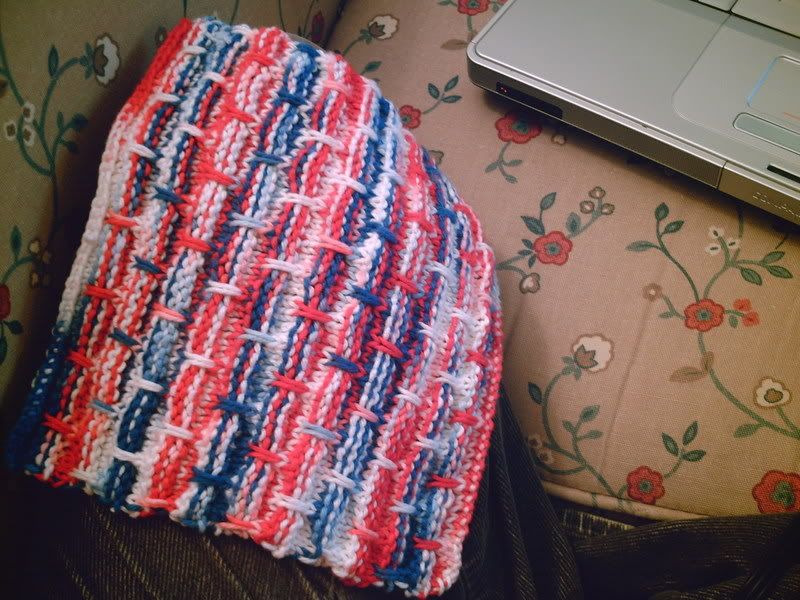 My very first! It's for my sister. She asked me to make her some kitchen washrags months ago and gave me this yarn to work with. It's been so long I can't remember the brand but I'm pretty sure it was Peaches and Cream. I only did one color since the yarn itself was multicolored. I also made it shorter than the pattern says to. I don't like big washrags and this was the perfect size (11 ball band strips as opposed to 13). I did it on 8's too since I didn't want to find my 7's. :) I have enough to make one more with a strip of solid red in the center. I can't wait!
Wednesday, June 06, 2007
Absorba the Colorful
I finally made my long-planned kitchen Absorba in a rainbow of colors. I used two strands of the double-worsted Peaches & Creme that I ordered way back in April when I found out that you could order online direct from Elmore-Pisgah.
Labels: Absorba
Tuesday, June 05, 2007
Chevron Stripes -- help?
Hi there,
So, I've tried the chevron stripe towel, using the corrected instructions (with the repeat being k2tog, k2, kfb in next 2, SKP), but I'm still having trouble: I'm ending up a few stitches short to finish the last repeat before knitting the last 5 stitches. Has anyone else had trouble with this? Any tips would be greatly appreciated!

Hrm . . .
I still don't feel like knitting those hats.

So I'm not gunna.

Not.

Not.

Not.

(At least, not before this year's Dulaan deadline. They'll get done . . . eventually.)

Sunday, June 03, 2007
Big Dotty Pillow
Pattern: Big Dotty Cushion from Mason Dixon Knitting by Kay Gardiner and Ann Shayne
Yarn: Rowan Handknit Cotton in 205 (Linen), 239 (Ice water), 253(Tope), and 315 (Double chocolate).
Needles: Size 6 clover circulars.
Timeline: A month?
I gave this to my brother for Christmas. Of course, it was still on the needles... I finished it up a few days afterwards, and my mom sewed it up with a denim fabric back that closes with velcro. This pattern was so much fun! It is amazing what slipped stitches can do. It looks much harder than it actually was...
This is cross-posted on
my blog
.