Thursday, July 20, 2006
Call the Doctor!
I've got Absorba-itis.
Well, I finished it in 3 nights of TV knitting, but man are my fingers sore and my wrists tired. I have been forced to read for a couple days to recover.
Here she is, in all her MSU Spartan colors glory: (2 strands ecru, 1 forest)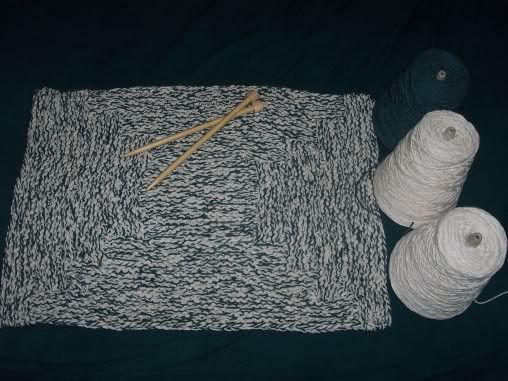 A couple of comments:
1. I knit this rug on 9" sz. 13 clovers. I don't have any longer ones, maybe that's why I am so sore...
2. Does it seem strange that I have almost have a cone x3 left over? I always seem to always have way more yarn leftover than the pattern calls for. I can get 3 ballbands from 2 balls of SnC as well. hmmm... Guess I'll have to make another one of these puppies to use it up, but that is a project which will wait for awhile. *oh the pain* *giggle*
3. It is extra sqooshy and lovely. DH and his size 14 feet are in love.
After my self-mandated recovery time with Kristin Lavransdatter, I plan to miter a few for Jennifer...
Happy MD knitting all!
Comments:
Absorba on 9" needles?!?! Bless your heart! I think I was up to a 36" circular till I was done. It's gorgeous, love the colors. I had tons of yarn left from mine too. I seem to remember the pattern in the book didn't really give specific yardage, just said 3 cones. Maybe they had leftovers too. I'm on my second Absorba but haven't had much time to knit on it. My fist one only took a week of evening knitting.
Post a Comment
<< Home