Friday, July 14, 2006
Ready to start Absorba!
So, I have my PnC: 2 cones of natural, 1 of forest. Now I need to get the needles.
I am so excited to get going on this project, everyone says it goes so fast.
And, in non-MD knitting news (*gasp*) I absolutely HAVE to show off my very first sweater ever! I made it for *double gasp* $6.00. Yep, six bucks. I know there are those who scoff at acrylic, but I swooped up some Caron Simply Soft for .99/skein, and my 3 yr. old picked the pattern. I had to rewrite the pattern, (see my blog) for my gauge, but he loves it! As it is my first sweater, there are plentiful mistakes. But I couldn't be prouder!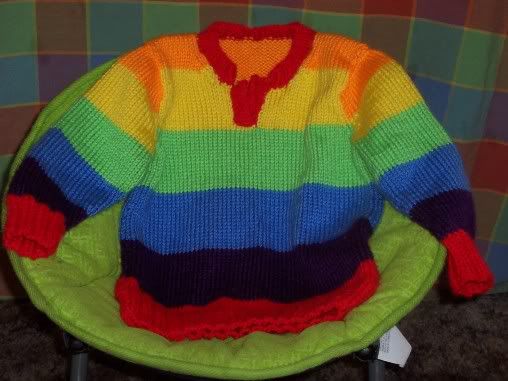 Please forgive my non MD project- I had to share- I know no other knitters to brag to!
Comments:
I think it is great for you to share even if it isn't MD - I might do the same...I am a new knitter with few projects under my belt [just finished my first scarf] and no other knitters to brag to either!
PS - I just bought the MD book, hence my joining the MDKAL and can't wait to try some things out!
Karly [sweetbeaker.blogspot.com]
Post a Comment
<< Home