Thursday, August 24, 2006
Two Ninepatches completed!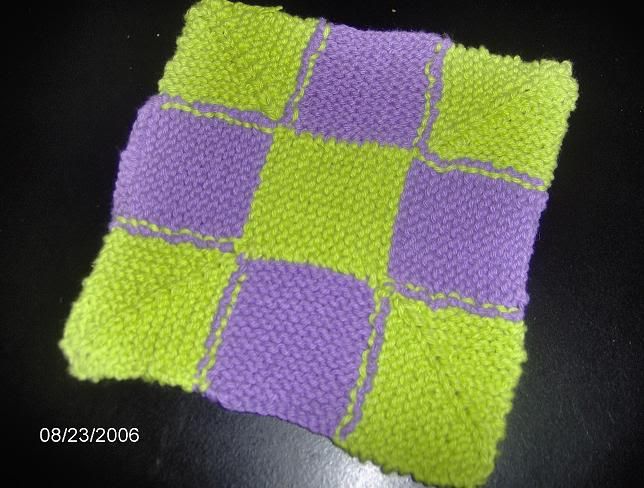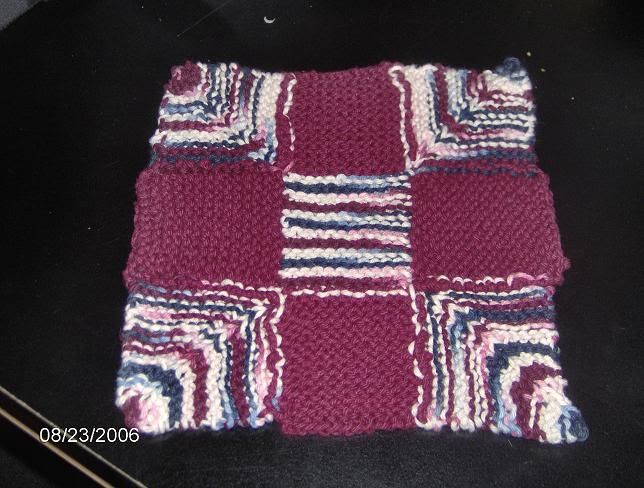 Really enjoy the ninepatches! Even though, I have had to do some of the corner patches over, due to my mistakes, I love the way the come out. The lime/purple one was my first and the first corner came out fine the first time through. It was the third corner that I had to frog three times, just couldn't get it even. Looks fine now, I hope. The purple and lime green one go with the two purple and lime green ballpands I posted a week or so ago. My mom loves the colors and they will be part of her Christmas present. The burgundy one will also be a gift (not sure who yet), I plan on starting a matching ballpand to go with it. Not sure if that is my next MDK project or not. I've been much inspired seeing all these Kimonoes (sp?), but I also bought the wool for the felted boxes. Decisions, decisions! My birthday is next month and I plan on purchasing the yarn for the Moderne Log Cabin. I love the fall and am considering going with four fallish colors. Even though they won't really match my living room decor, I don't really care.....I love the colors. I received the new Knitpicks catalog and am thinking on going with Merino Style (DK Weight) Cinnamon, Butternut, Nutmeg and Crocus. Hopefully this link works, I would love some opinions.
http://www.knitpicks.com/yarns/itemid_5420104/yarn_display.aspx
Comments:
The link didn't work for me but
this should
I love the colors! I'm a fall colors girl and I've been looking for something with colors I like to use for the blanket so I'm very interest in how this turns out.
Post a Comment
<< Home