Saturday, May 13, 2006
Ruffle Bib...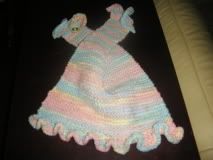 I was about to put this in the mail, but wanted to share a photo before I did. This was my second bib and since it was for a girl I thought I would put a little ruffle on it. I think it turned out pretty well! Sorry the photo is a little blurry because the flash ruined the colors!
Comments:
i LOVE the ruffles. can you post what you did to add them? i think it is wonderful. ruffles make everything so girlie!
Post a Comment
<< Home